Visual Citizenship at the Australian Citizenship Convention
Visual Citizenship at the Australian Citizenship Convention
Kathy Marks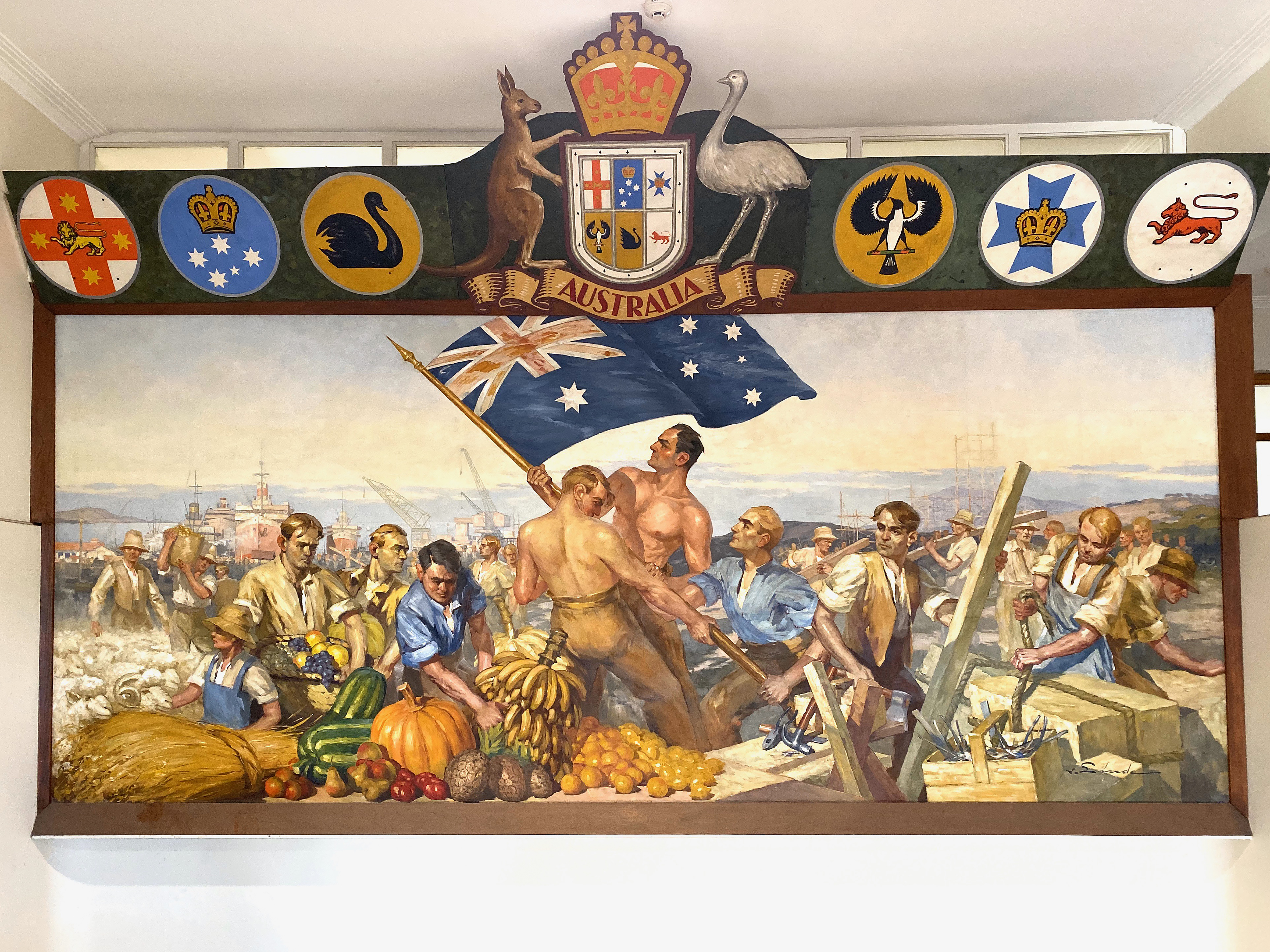 When the Australian government staged its first Citizenship Convention in 1950, the centrepiece of an accompanying arts and crafts exhibition was a monumental painting depicting two muscular migrant labourers raising an oversized Australian flag, above a banner containing the Australian coat of arms and the six state badges.
Professor Melissa Miles, who came across the painting while researching this ARC project on visual citizenship, was struck by its "bold display of nationalism" and its physical and conceptual scale. However, the story of how the two artists, Latvian father and son Verners and Girts Linde, used it to simultaneously illustrate and navigate official citizenship policies, proved even more intriguing.
From the National Archives, contemporaneous newspaper reports and Linde family papers, she established that the two men arrived in Fremantle from a displaced persons camp in Germany in 1949, after being forced to relocate from Latvia to German-controlled Poland, and, in Girts' case, being conscripted as a teenager into the German army.
Experienced artists, the Lindes understood that a celebration of migration labourers as nation-builders would appeal to organisers of the Citizenship Convention and its "New Australians" exhibition. The Convention aimed to foster acceptance of the nearly 180,000 European migrants admitted under the post-war mass resettlement scheme.
At the same time, the pair hoped their 5-metre by 2.3-metre work would help bring the family stability and prosperity in their new homeland. Professor Miles, who outlined her findings in a 2022 article in Australian Historical Studies, says of the painting: "It's a really bold demonstration of hope, optimism and ambition."
Indeed, thanks to the surrounding publicity, the pair secured early release from the mandatory two-year migrant labour scheme, and the family was able to move to Adelaide, with its thriving European artistic community. However, they struggled financially, with Verners failing to earn a living as an artist.
The painting eventually ended up in the Telopea Park School in Canberra, where it hangs in a prominent spot after being cleaned and restored.